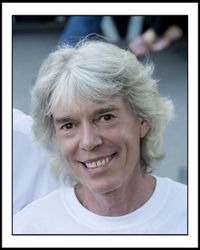 Jim Ocean was born in Stuttgart, Germany in 1952—an occupation brat taken to the wilds of Bismarck, North Dakota by a small-town air force father and a beautiful German mother. The restless family landed in Colorado and Oklahoma (where Jim developed a fascination with tornados and guitar) before settling down in time for Northern California's 'Summer of Love'.  Jim began gigging around the Sonoma folk scene, appearing with Kate Wolf in his first concert during the mid 1970's.
Through a series of misadventures, Jim spent a year living, steeping, and performing in the East Coast's prolific acoustic music scene. After saving enough gas money, Jim returned to the Bay Area and established an on-going music scene hosting original and traditional music that has been running in Contra Costa County and beyond ever since.  
As a songwriter and performer, Jim founded the darkly satirical group Celtic Elvis. The band was discovered by Christine Lavin and subsequently released 3 recordings and toured the continent for over 10 years. Jim briefly formed another group named The Dogmatics that produced a CD called "Fear and Love", which was recorded in Nashville with the house band for the Grand 'Ol Opry. In January 2010, Jim's first solo album "Pop Tunes for Mystics" was released on Wildplum Records. Full of thought-provoking material, beautiful and haunting melodies with a refreshing mix of instrumentation, this project has been called "a secular ride through spiritual terrain".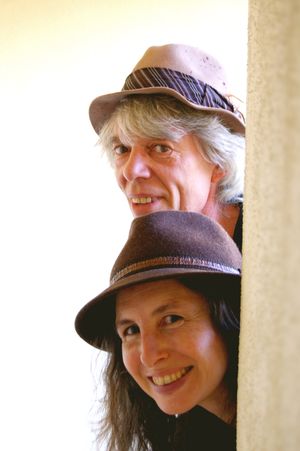 About the time Jim was joining Kate Wolf on stage, the teenager who would become Kathy Ocean was petitioning her parents to trade in her clarinet for a guitar. (She couldn't stand the taste of the reed, how it squeaked in her brain and couldn't picture playing the clarinet on a whim at age 50.) Five years later, after dabbling in the Indiana University coffeehouse scene, Kathy heeded the call to bolt the cornfields of her youth. She dropped out of college, sold her belongings, and with a trunk and the guitar she talked her parents into, boarded a train for a new life in San Francisco.
When Jim and Kathy joined forces in 2000, their romance grew through singing, playing and writing together. Kathy immediately jumped into concert production activities and it wasn't long before she joined Jim on stage.
Life-long explorers of the human species, thought-rockers Jim and Kathy Ocean use songwriting and performance to make observations, ask questions and start conversations.   Whether performing at a music club, planetarium, house concert or mountain top, their original music is a stimulating, often satirical, folk-rocking romp through science, philosophy, current events and the complications of being human. They call it "Music for the MetaQuizzical".
In 2010, the Oceans' collaborated on the 12-week run of the Smithsonian BEYOND exhibit at the Petaluma Museum. Several years later, they crafted their astronomy-inspired tunes into a program called ASTRONAUT LULLABIES that was paired with a planetarium show which ran four years at the SRJC Planetarium.  
The Oceans' environmental disaster song "Plastilla" was made into a video and used as curriculum in Fresno Unified schools. Their song and video about Dark Matter "Said the Dark to the Light" won audience favorite at a film festival in Paris.  Another song, "Super Earth", made the rounds at NASA; plus, Jim and Kathy have played for so many astronauts they may soon be the first folk duo in space.  Until then, they are content to spend their days between their Guerneville home in the redwoods and their sweet yurt near the Yuba River outside of Nevada City.
"[Their] lyrics hit close to home, delivered with plenty of laughs." – Oakland Tribune
"I like how their minds work . . ." -- Country Joe McDonald
"Poetic and courageous, the Oceans' songs are intelligent, sometimes witty, sometimes serious, always deeply moving. Like a classic movie, the music remains relevant, fresh and worthy of listening to over and over." --Paul Tumolo, Wild Plum Records
Jim and Kathy's Photo Gallery