Music for the MetaQuizzical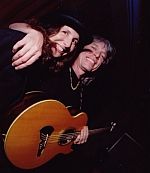 Smart musical wanderings through the comedies and tragedies of the human experience. Nick Drake meets the Beatles meets Nietzsche with a solar flashlight and a GPS

Eclectic, fresh and edgy, the Oceans' write and perform in many styles with content ranging from the humorous to the serious to the spiritual, sometimes weaving all three seamlessly within one song.

With tunes that are thought provoking, humorous and wise, the Ocean's music is custom-made for those with a sense of curiosity, who appreciate perspectives that are original, surprising and sometimes quirky and irreverent. It's especially for those who like their art to make them think, feel, laugh and reflect.

It's called "Music for the MetaQuizzical".
NEXT SHOWS -- JOIN US!!
Saturday December 21st at the Arlene Francis Center in Santa Rosa
"Fusion of Generations" Concert
Jim Ocean and the Thought Rockers perform at 6:45pm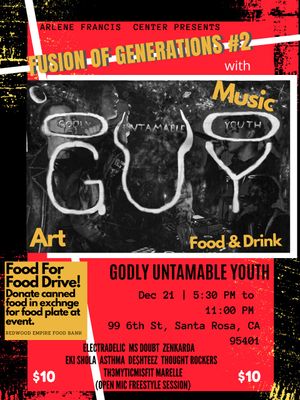 Fusion of Generations is an art and live music mash-up featuring artists and musicians of different generations, backgrounds and styles. Join us for a fun, vibrant, barrier breaking evening!

In addition to live music, there will be an art show in the lobby plus a canned "Food for Food" drive. Donate canned food and receive a pasta dinner at no additional charge!

Admission is $10 at the door. No one turned away for lack of funds.
---
Jim and Kathy were featured guests at the Wonderland Radio Hour show about Guerneville
Click HERE to listen to the live performance of "Sequoia Sempervirens",
a song about two special trees that once lived in the Oceans' neighborhood.
(The song starts at 16:44)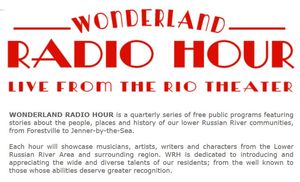 ---
CHECK OUT OUR LATEST VIDEO!
The Future Smells like Elon Musk
A tribute to bold, visionary leadership by Musk and others like him
Click HERE for more about this project
---
What others say about the Oceans' ballads: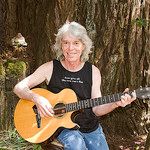 "The Oceans' music transcends category, transporting the audience through an entertaining and poignant range of emotions related to being human in the modern world." – K Smith, Concert Producer
"Their songs pack an emotional wallop..."
–Joseph Chilton Pearce, Author of "Magical Child", "Evolution's End" and "Crack in the Cosmic Egg"
What others say about the Oceans' satire: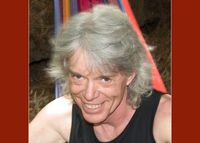 "…Some of the best satirical songs you're likely to hear." – Dirty Linen
"The Oceans' consistently skewers modern life in the USA. The songs are smart, as well as clever, but avoid the novelty stance of going for cheap laughs. Instead, they get under the skin of contemporary facades and relationships. Music for our times."
– Garth Johnson, Victory Music Review, Seattle
---
Thanks for visiting -- Come again!!