Music for the MetaQuizzical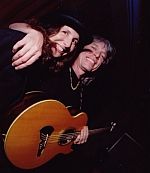 Smart musical wanderings through the comedies and tragedies of the human experience. Nick Drake meets the Beatles meets Nietzsche with a solar flashlight and a GPS

Eclectic, fresh and edgy, the Oceans' write and perform in many styles with content ranging from the humorous to the serious to the spiritual, sometimes weaving all three seamlessly within one song.

With tunes that are thought provoking, humorous and wise, the Ocean's music is custom-made for those with a sense of curiosity, who appreciate perspectives that are original, surprising and sometimes quirky and irreverent. It's especially for those who like their art to make them think, feel, laugh and reflect.

It's called "Music for the MetaQuizzical".
THE jIM OCEAN BAND RELEASES ITS DEBUT ALBUM