CONTACT US
to bring a cafe event
to your school, library, salon
or living room!
OceanWorks Productions presents
"The MetaQuizzical Cafe"
A Musical Science and Philosophy Salon
Tasty Edutainment for the Heart and Mind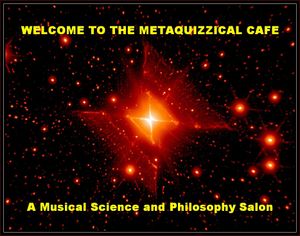 Are you curious about the world around you?

Do you marvel at human innovation and scientific discovery?

Do you wonder what makes the human heart, mind and soul tick?

Do you find yourself asking how we humans can be so smart and well . . . so not?

Do you like to explore the comedies and tragedies of human experience?

Do you like music that makes you feel and think?
THEN YOU'LL LOVE THE METAQUIZZICAL CAFE
The MetaQuizzical Cafe is musical edutainment for those hungry for knowledge and meaning.
Each unique event centers on the scientific or philosophical concept behind one of singer-songwriter
Jim Ocean's original songs and is a spicy blend of live music, science news, "meta-quiz", speaker interview
and audience Q&A. A stimulating food-for-thought potluck concocted from the interplay
between the audience, musicians, speakers, and hosts Jim and Kathy Ocean.
SAMPLE PROGRAMS
A Tribute to Sidewalk Astronomer John Lowry Dobson
Featuring the song "The Sidewalk Astronomer"
(Listen)
(Read Lyrics)
A biographical sketch of John Lowry Dobson and the founding of the Sidewalk Astronomy Organization.
Dark Matter: The Next Great Discovery
Featuring the song "Four Percent"
(Listen)
(Read Lyrics)
An exploration of dark matter, dark energy and other forces that live just outside our understanding.
Are we Part of an Interstellar Nursery?
Featuring the song "Sugar in Space"
(Listen)
(Read Lyrics)
An investigation of "interstellar seeds" and the origins of life.
Did life on earth evolve from interstellar chemistry?
Are we waking from our evolutionary adolescence?
Featuring the song "Coming of Age in the Milky Way" (Listen)
(Read Lyrics)
An exploration of evolving human consciousness.
A look at where we've been and where we may be heading.
Newsflash: 96% of the Universe is Missing!
Featuring the song "Said the Dark to the Light" (Listen)
(Read Lyrics)
Not only are we not at the center of the universe,
we're not made of the same stuff as the majority of the universe.
Are Scientists Afraid of the Dark?
Featuring the song "Dark Matter" (Listen)
(Read Lyrics)
An exploration of being human during a period of cataclysmic change
while on the edge of revolutionary understandings.
Call 707-869-9403 for more information
or to book a MetaQuizzical Cafe for your organization
BE METAQUIZZICAL!