A MENU OF THE OCEANS' LIVE PERFORMANCES
The most fun you'll ever have thinking while listening to live music!
BOOKING INQUIRIES:
Call 707-869-9403
Email:
kathy@communityconcerts.com
---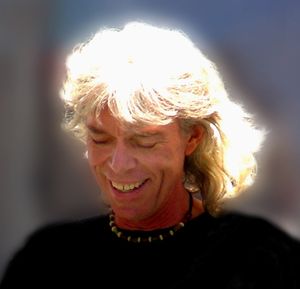 Music for the MetaQuizzical

Featuring songs of science, satire and spirit, this program is a musical smorgasbord where the Ocean's weave their trademark satire with their thoughtful ballads and their collection of "poetic science" songs. (A few cover tunes are sprinkled in for added flavor.)

"The Ocean's give truth seekers plenty of new songs to hum. Their songs are deep and romantic with themes of universal love, compassion, and courage." JC "…Some of the best satirical songs you're likely to hear."–Dirty Linen

Listen to "Macro to Micro" and "Deep Blue Sea"
---

   The "Poetic Science" Revue

Inspired by scientific discovery, the Oceans' "poetic science" songs bridge the collective human mind to the collective human heart. Delivered with seriousness and humor, and peppered with a call to activism, this program is an invitation to take stock of our current moment in history and to appreciate the mystery, wonder and awe that surrounds us.

"The Oceans are bards for the science and spirit crowd. Their songs combine metaphor with new discoveries.  The Carl Sagan of singer songwriters." MK

Listen to "The Lovelock Dilemma" and "Plastilla!"
---

   Sarcology 101: An Evening of Satire

A program chock-full of wickedly funny and thought-provoking social satire.

"The Oceans consistently skewer modern life in the USA. The songs are smart, as well as clever, but avoid the novelty stance of going for cheap laughs. Instead, they get under the skin of contemporary facades and relationships. Music for our times" –Garth Johnson, Victory Music Review

Listen to "Ghost Towns in Russia" and "Rayon"
---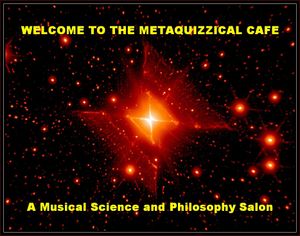 "The Metaquizzical Cafe" is musical edutainment for those hungry for knowledge and meaning. Each unique event centers on the scientific or philosophical concept behind the Oceans' original songs and is a fun and spicy blend of  live music, science news, "meta-quiz", special guests and audience Q&A.
---
Fun, Musical Happenings in Nature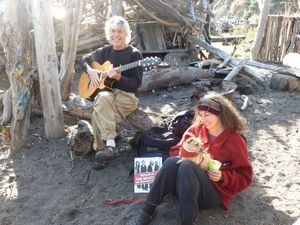 MUSIC AND MARSHMALLOWS
Join the Oceans for music, food and s'mores around a campfire.
ACOUSTIC RENEGADES
Boutique pop-up concerts in hidden Bay Area outdoor locations. (Promoted exclusively through the Ocean's mailing list with very limited capacity.)
---
INSPIRING PROGRAMS FOR STUDENTS

Our school programs can be tailored to all ages, but are most appropriate for grades 8 through 12.  Programs can be adapted for either classrooms or student assemblies.


AVAILABLE PROGRAMS

--The MetaQuizzical Cafe
--Poetic Science Revue (Generic Program)
--Poetic Science Revue (Space-related Science)
--Poetic Science Revue (Focus on the Environment)
--Music for the MetaQuizzical (Focus on Relationships)
--Music for the MetaQuizzical (Focus on Psycho-social Issues)
---